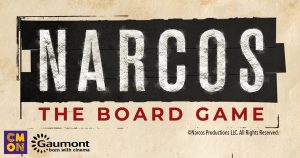 CMON bo izdal novo igro Narcos: The Board Game, imenovano po istoimenski tv seriji, ki je prejela nominacije za Golden Globe in Emmy.
Avtorja igre Narcos: The Board Game sta Fel Barros in Renato Sasdelli. Dva do pet igralcev se postavi v vlogo najmočnejših likov oz. skupin. Eden izmed igralcev je El Patrón, ki nadzoruje rastoči narko-imperij, medtem ko svojo lokacijo na plošči ohranja skrito. Ostali igralci prevzamejo druge vloge, kot so: DEA, Policía Nacional de Colombia, Cali Cartel in skrajna gverilska skupina. Na videz povsem različne skupine so združene v skupnem interesu, da odkrijejo skrito lokacijo in sicer tako, da si delijo informacije in razpravljajo o strategiji. Če lokacije ne odkrijejo, zmaga El Patrón, če pa ne, zmagajo "lovci".
Da bodo igro Narcos: The Board Game lahko ustvarili, so se združili s filmskim podjetjem Gaumont. David Preti iz CMON je ob najavi nove igre dejal, da je bilo ustvarjanje neverjetna pustolovščina. Vsaka podrobnost igre je namreč usklajena z ekipo iz Gaumont. S tem so želeli zagotoviti, da bodo ljubitelji serije res dobili pravo izkušnjo, hkrati pa, da bo igra zanimiva tudi vsem ostalim, ki serije ne spremljajo.
Tim Stephen iz Gaumont pa je povedal, da proizvajalcu in založniku popolnoma zaupajo pri izdelavi in oživitvi serije v igro, s čimer se bodo lahko navdušenci poglobili v zgodbo in karakterje.
Narcos: The Board Game naj bi izšla ob koncu leta.