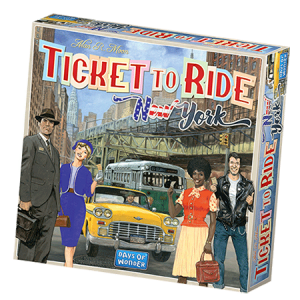 Dobrodošli v Velikem jabolku! Uživajte v znamenitostih New York mesta, z značilnostmi, kot so: Time Square, Brooklyn, Empire State Building in Central Park! Vse to lahko raziščete v novi hitri igri Ticket to Ride: New York. 
Ticket to Ride: New York je elegantna in enostavna verzija igre Ticket to Ride, v kateri igralci tekmujejo v New Yorku v 60. letih prejšnjega stoletja. Železnico zanimivo zamenjate za taksi. Z njim tekmujete, kdo bo hitreje prišel do turističnih znamenitosti in dokončal destinacijske vozovnice.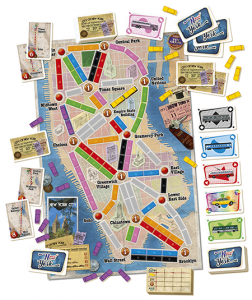 Igra je hitra in kompaktna. Novi igralci lahko osvojijo igro le v treh minutah. Kompakten format je odličen za prenosljivost in za nove igralce, kot tudi za prekaljene mačke.
Ticket to Ride: New York je samostojna igra v seriji Ticket to Ride. Namenjena je 2 do 4 igralcem. Čas igranja je med 10 in 15 minut. V igri dobite ploščo z zemljevidom, 60 plastičnih taksijev, 44 transportnih kartic, 18 destinacijskih vozovnic, pravila igre, blok za točkovanje in pisalo. Izid je napovedan za mesec julij in bo na voljo tako v Evropi, kot tudi ZDA.