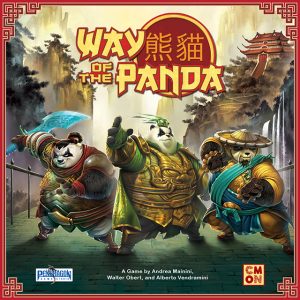 Ninje so prevzele dežele, ki so včasih pripadale pandam. Nekoč živahne ceste, polne trgovcev, so preplavili ninja banditi, mesta so začela propadati. Zdaj so se 4 panda-klani zaobljubili, da si bodo vzeli, kar je njihovega. S pomočjo največjih junakov bodo obnovili nekoč veličastna mesta ter odstranili nevarne ninje. A v Way of the Panda bo le en klan storil največ in za nagrado dobil mesto pomočnika cesarja.
V igri Way of the Panda igralci prevzamejo vlogo voditelja enega izmed 4 klanov. Z menihom, bojevnikom in guvernerjem se premikajo po plošči in premagujejo ninje. Ko so ceste "čiste", lahko igralci gradijo veličastne zgradbe. To dvoje prinese klanu prestiž in zmago.
Way of the Panda vsebuje veliko miniatur in se igra nekaj rund. V njih igralci najprej po vrstnem redu izberejo akcije, postavijo svoje figure na ploščo, akcije plačajo in jih izvršijo. Akcije so od premikov, gradnje, povečevanja moči, do različnih iskanj in premagovanj ninj naprej.
Igra traja med 60 in 90 minut, je za 2 do 4 igralce od 14 let naprej. Way of the Panda so ustvarili Andrea Mainini, Walter Obert in Alberto Vendramini, ilustrirali pa so jo Davide Corsi, Saeed Jalabi in Giovana Guimarães. Pri CMON naj bi izšla konec maja.