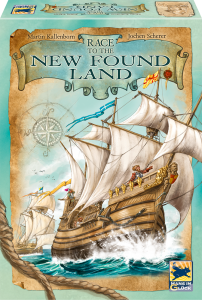 Drzni in neustrašni mornarji raziskujejo oceane. Naletijo na velikansko odkritje: New Found Land (novo odkrito zemljo), velik otok ob obali Severne Amerike. Takoj se seveda začne tekmovanje med narodi, saj vsi želijo večji del zemlje zase. V igri odkrivanja in tekmovanja Race to the New Found Land spretno uporabljate svojo floto. Z njo morate vedno znova predstavljati dosežke kraljevi hiši, ki ji pripadate.
Strategije v Race to the New Found Land so različne. Lahko ste dovolj hitri, da odplujete in prvi naselite nove, nepoznane dežele. Lahko najprej odkrijete nova območja, lahko pa menjate in najprej zgradite svojo floto.
Ustvarjalca igre sta Martin Kallenborn in Jochen Scherer, ilustrator Alexander Jung. Race to the New Found Land, s katero vplivate in imate kontrolo nad določenim območjem, je v januarju izdal založnik Hans im Glück. V družinski igri s kolonialno tematiko postavljate delavce, namenjena pa je 2 do 4 igralcem. Traja med 60 do 90 minut, priporočena starost je 10 let.